Trampoline Measuring Guide for Replacing Trampoline Parts
When it comes to trampolines there are several measurements you need to ensure you get the correct size parts. This page is designed to help you get the right measurements and ensure that you are ordering the right part. For Replacement Padding (the part that covers the springs):</p> Measure your Frame size, from outside edge to outside edge of metal frame across widest part of trampoline (diameter of frame)
Usually, the frame is close to an even foot amount (8ft, 10ft, 12ft, etc) so as long as it is within 2 inches you should be alright, for example, a trampoline that measures 12'10" would be able to use a 13ft Safety Pad. Trampoline Padding Sizes we stock are: 8ft, 10ft, 12ft, 13ft and 14ft
For Trampoline Safety Netting:
Measure your Frame size, from outside edge to outside edge of metal frame across widest part of trampoline (diameter of frame) Count the number of enclosure poles. Look at your poles. Are your poles straight? How many, 6 or 8 ? Our universal replacement trampoline nettings envelope over straight poles and come with zip and clip openings for best safety (unless otherwise stated as we occasionally have some cheaper options with no zip, this will be clearly stated in product description) We sell universal nets that fit most major brands and stock replacement trampoline netting for 8foot trampolines with 6 poles, 10foot trampolines with 6poles, 10foot trampolines with 8poles, 12 foot trampolines with 8poles, 13 foot trampolines with 8poles and 14foot trampolines with 8poles.
For Replacement Trampoline Poles:
We currently stock 2 main lengths of straight trampoline replacement poles, 1 that suits an 8foot trampoline and a longer one that suits all other sizes, 10, 12, 13 and 14 foot trampolines. Our poles come complete with foam padding around them and their own brackets that fix to the trampoline leg at the appropriate height for your nettings.
To ensure the pole will suit your trampoline:
Check that your poles are straight ones that attach to the outside of the trampoline. You could also measure the height of your trampoline from the ground to the frame and then from the frame to the top of the netting to work out if the pole length will suit.
For Enclosure Systems with Netting and Poles:
The outside frame needs to be measured, as well you need to inspect the feet of the trampoline to see how many legs it has to work out how many pole uprights you require We then can provide you a suitable set with netting and number of poles required.
For jump mats:
You need to measure the frame size of your trampoline You also need to measure the spring size of your springs from hook to hook ensuring it is not stretched. The most usual lengths are 5.5 inches or 7 inches. We can currently supply jump mats for 8foot, 10foot, 13foot and 14foot trampolines in either 5.5 inch or 7 inch spring sizes. The number of eyelets on your mat can be counted also, however if this number differs by a few or even up to 8 or 10 from universal replacement you can just space the springs out and it will still be a successful replacement fitting.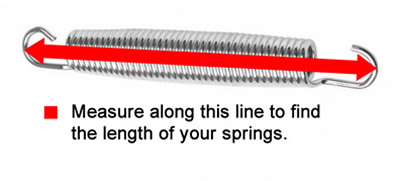 For Springs:
Take a spring off the trampoline. Measure it including both hooks. The total length. The sizes we currently stock are 5.5 inch springs and 7 inch springs.